NEST HOTEL NAHA KUMOJI
RELAX AND CONNECT,
IN YOUR OWN
SLICE OF COMFORT
RELAX AND
CONNECT,
IN YOUR OWN
SLICE OF COMFORT
Connect to the locale and revel
in the comfort of convenience and relaxation.
As a cultural hub, Okinawa has developed its own distinctive culture that
makes it unique from other destinations in Japan.
Through building a lasting relationship with the locals,
our goal is to create a place where the smiles and laughter of families fill the air.
On an island where the sea meets the sky, enjoy time away in comfort and bliss.
GUEST
ROOMS





Away from the clamor of the city, immerse yourself in the island life surrounded by the warmth of the Okinawan wood style.
Eight room types; Double, Twin, Hollywood Twin, Deluxe Twin, Fourth, Executive Twin, Executive King, and Universal. (18m²~30m²)
RESTAURANT




With a focus on local ingredients, start your day with a wholesome breakfast that is both pleasing to the eyes and the palate.
The buffet-style breakfast makes abundant use of local ingredients with an Okinawa flair.
FOR
FAMILIES




Creating memories for the whole family
Reminiscent of a Ryukyu forest,
the atrium lobby surrounded in greenery warmly welcomes guests to the hotel.
With a spacious family room that accommodates up to six people,
the Okinawan accents throughout the hotel are designed to be enjoyed by the whole family.
From the Executive Rooms on the top floor where families can enjoy a barbecue on the balcony,
to the thoughtfully curated amenities, such as strollers,
we strive to create an experience that will be cherished for years to come.
HOTEL
FEATURES




OTHER SERVICES
Free Wi-Fi
Ice machine
Coin laundry
ACCESS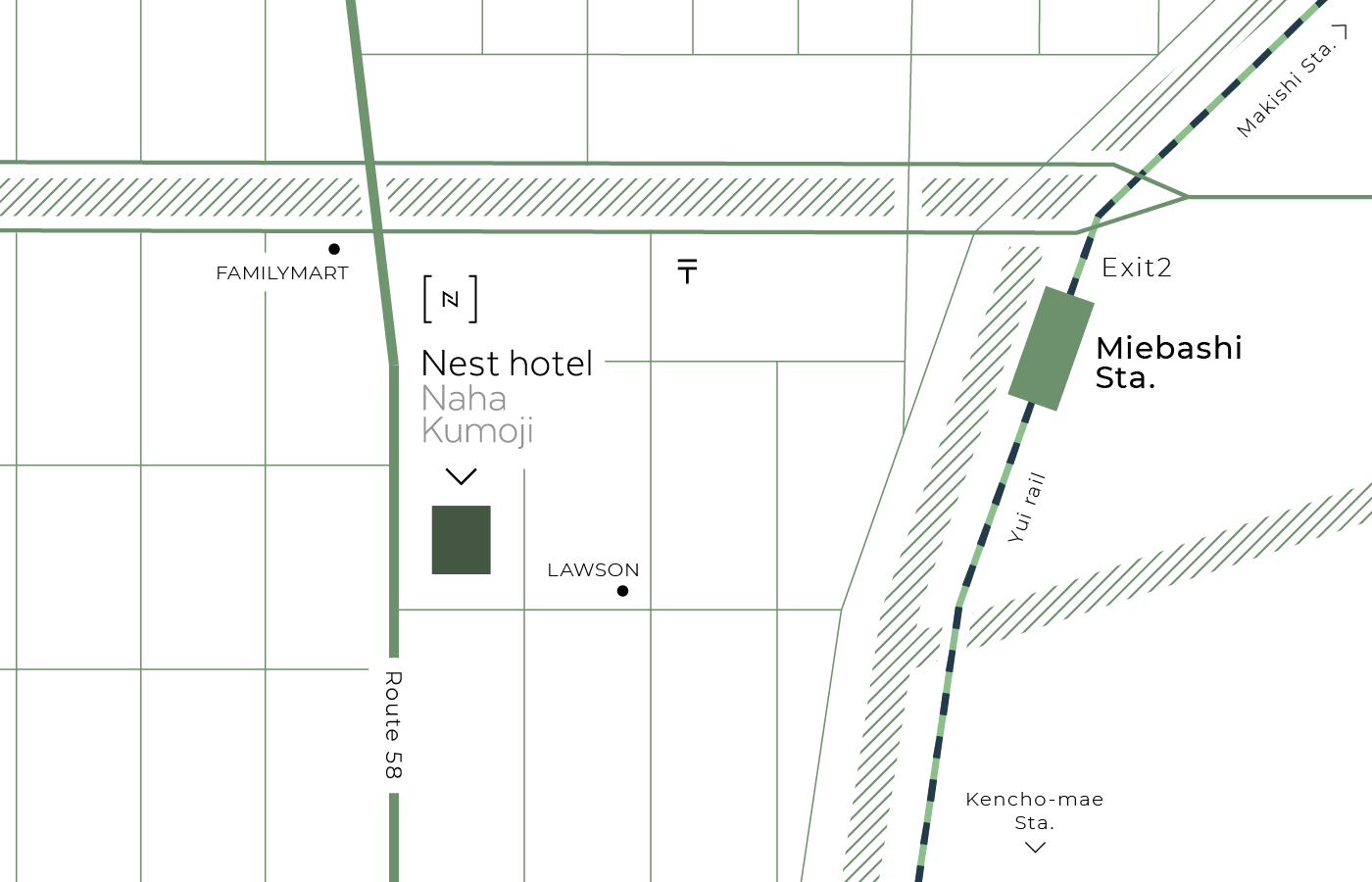 NEST HOTEL NAHA KUMOJI
2-22-5 Kumoji, Naha, Okinawa, Japan
TEL
+81-98-975-7385
FAX
+81-98-975-7386
EMAIL
info.naha-kumoji@nesthotel.co.jp
GOOGLE MAPS



TRAIN & CAR ACCESS
5 minutes walk from Yui Rail Miebashi Station.

15 minutes by car or 30 minutes by Yui Rail to Naha Airport.

10 minutes walk from Kokusai Dori (International Street).

7 minutes walk from Tomari Port Terminal.
GALLERY




CONTACT




BOOK NOW

CONTACT

NEST HOTEL NAHA KUMOJI
2-22-5 Kumoji, Naha, Okinawa, Japan
TEL +81-98-975-7385
FAX +81-98-975-7386